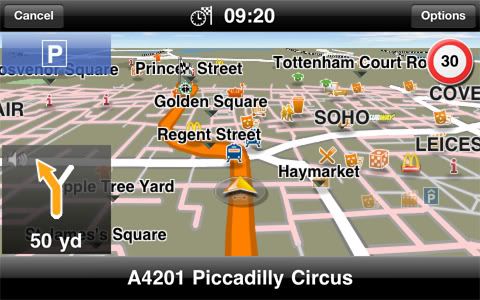 Navigon
Europe
and
TomTom
Eastern
Europe
-1.9BG
Navigon
Europe
Version 1.8.2
Bugfix: The following problem reported by some customers has been resolved: Sudden loss of the GPS signal after operating the app in the background.
Included maps:
Albania, Andorra, Belarus, Belgium, Bosnia-Herzegovina, Bulgaria, Denmark, Germany, Estonia, Finland, France, Gibraltar, Greece, United Kingdom, Ireland , Italy, Croatia, Latvia, Liechtenstein, Lithuania, Luxembourg, Macedonia, Monaco, Montenegro, Netherlands, Norway, Austria, Poland, Portugal, Romania, San Marino, Sweden, Switzerland, Serbia, Slovakia, Slovenia, Spain, Czech Republic, Hungary, Vatican
Features and range of functions:
- Simple, intuitive user interface
- Can be used in portrait and landscape format
- Precise voice announcements
- Intelligent address entry
- Reality View Pro (realistic display of motorway interchanges and exits)
- Lane Assistant Pro
- Real signpost display
- Speed Assistant with adjustable audio-visual warning
- Day and night mode for map display
- Direct access and navigation to contacts saved in the iPhone's address book
- NAVTEQ maps
- Navigation is automatically resumed after an incoming phone call
- 2D and 3D map displays (bird's-eye view)
- Quick access to user-defined POIs in the area and along the route
- Take Me Home function with a single click
- Automatic language selection to match the iPhone's user language
- Route Planning
- Text-to-Speech
- Automatic Day/Night adjustment
- Integrated
iPod
control
- Location sharing via Email
- Enhanced Pedestrian Navigation
- Google Local Search
- Coordinate Input
- SOS/DirectHelp
- Turn-by-Turn RouteList
-- UK Postcode Navigation (In App Purchase)
- Panorama View 3D (In App Purchase)
-
Navigon
MyRoutes
- Connection to Facebook and Twitter
TomTom Eastern Europe Version 1.7
LATEST, UPDATED
TomTom
MAP: Because roads are constantly changing, on average 15% of roads change every year, your
TomTom
App update comes with the latest and most up-to-date map.
FEATURES
-
TomTom
MAPS: Your
TomTom
App comes with the latest and most up-to-date map, ready to navigate.
- MAP SHARET: Make on-the-fly changes to your own map and benefit from free, verified updates made by
TomTom
users every day--delivered automatically on a weekly basis and on-demand anytime you want.
- IQ ROUTEST: Only
TomTom
uses actual speed data collected from millions of users to accurately calculate the travel time of your route. It takes into account rush hour, traffic lights-even shopping crowds.
- Local search powered by GoogleT
- Millions of pre-installed POIs
- Lane guidance for complicated interchanges
- Clear voice instructions
- Announces street names(2)
- Help me! emergency menu
- Speed Cameras(1)
- Automatic music fading
- iOS multitasking support(3)
- Seamless navigation while calling (iPhone 3GS/4 only)
- Background navigation instructions (iPhone 3GS/4 &
iPod
touch 3rd gen. only)
- Navigate-to-photo(4)
- Navigate-to-contacts
- Route sharing
- Departure reminder
- Calling destination (iPhone only)
- Car symbols
- Map colors
MAPS COVERAGE
-
Eastern
Europe
(Czech Republic, Estonia, Hungary, Lithuania, Poland, Slovakia, Slovenia, Bulgaria (54%), Latvia (63%) and Croatia (42%)).
Download:
Code:
http://www.fileserve.com/file/GgpVRp....8.2.part1.rar
http://www.fileserve.com/file/yzTHbA....8.2.part2.rar
http://www.fileserve.com/file/9Gsnrh....8.2.part3.rar
http://www.fileserve.com/file/gcgpky....8.2.part4.rar
http://www.fileserve.com/file/dUSuec....8.2.part5.rar
http://www.filesonic.com/file/132592....8.2.part1.rar
http://www.filesonic.com/file/132592....8.2.part2.rar
http://www.filesonic.com/file/132592....8.2.part3.rar
http://www.filesonic.com/file/132592....8.2.part4.rar
http://www.filesonic.com/file/132592....8.2.part5.rar
http://www.uploadstation.com/file/FA....8.2.part1.rar
http://www.uploadstation.com/file/Xv....8.2.part2.rar
http://www.uploadstation.com/file/YY....8.2.part3.rar
http://www.uploadstation.com/file/27....8.2.part4.rar
http://www.uploadstation.com/file/Z2....8.2.part5.rar
http://www.wupload.com/file/36672571
http://www.wupload.com/file/36672624
http://www.wupload.com/file/36672590
http://www.wupload.com/file/36672640
http://www.wupload.com/file/36672578
---
iPhone L iPod Navigon Europe 1>82 and TomTom Eastern 1>7