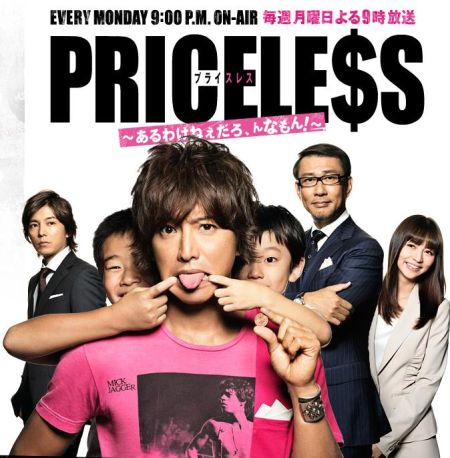 Alternative Title(s) :
Priceless
~あるわけねぇだろ、んなもん!~;
Priceless
~Aru Wake Needaro, Namon!~; PRICELESS~There's no such thing!~
Hardsubbed or Softsubbed: Softsubbed
English Subtitles: Yes
Fansub: Rollins
Number of Episodes: 10
Date Aired (YYYY-MM-DD): 2012-Oct-22 to 2012-Dec-24
Summary:
Kimura Takuya returns to Monday nights at Fuji TV as an ordinary salary man, Kindaichi Fumio, who is loved by colleagues and trusted for his ability to protect subordinates.
One day, however, things take a 180 degree turn and his life becomes completely flipped upside down. His superiors fix their eyes on him and concoct a plot to bring him down. He is held responsible for a crime he has no recollection of, and is forced to leave his position. More unfortunate events follow as Kindaichi loses literally everything from his cellphone to his home, ending up without a penny in his pocket. Shocked by his losses, he one day meets two children in the park by chance who teach him how to get by without any dependency on money. The greatest thing about Kindaichi's character is that his character never fails him. He always has a carefree attitude and is driven by those people he meets, who love and support him, not by inflicted pain or grudge against others.
Despite being the man who has lost all his possessions, Kindaichi continues to move forward, inspiring his former boss, Moai Kengo, and conservative office co-worker, Nikaido Aya, resulting in a big turning point for each of them. What is it that money can't buy? What is the most precious thing in life? A man tells the story of finding that "priceless" something in life, through unpredictable turns and twists with a light comedy touch. --Fuji TV
Cast
Kimura Takuya as Kindaichi Fumio
Yokoyama Kentaro (横山賢太郎) as young Fumio (ep1)
Nakai Kiichi as Moai Kengo
Karina as Nikaido Saya
Fujigaya Taisuke as Enomoto Kotaro
Renbutsu Misako as Hirose Yoko
Masu Takeshi as Fujisawa Takeshi
Maeda Oshiro (前田旺志郎) as Marioka Kanta
Tanaka Kanau (田中奏生) as Marioka Ryota
Nakamura Atsuo as Oyashiki Iwao
Issey Ogata (イッセー尾形) as Zaizen Osamu
Natsuki Mari as Marioka Ichirin
Fujiki Naohito as Oyashiki Toichiro
Akimoto Rei (秋元黎) as young Toichiro (ep9)
Guests
Hankai Kazuaki as a festival vendor (ep1-2,10)
Morishita Yoshiyuki as a homeless man (ep1)
Okayama Hajime as Sawatari Masao (ep1,6,10)
Tameguchi Yutaro (溜口佑太朗) as Miracle Mahobin employee (ep1-4,6,9-10)
Tsukamoto Naoki (塚本直毅) as Miracle Mahobin employee (ep1-4,6,9-10)
Sato Chikau (佐藤誓) as a festival food vendor (ep1)
Toji Takao (ep1)
Tengenji Ryu (天現寺竜) (ep1)
Kawai Tsuto (川井つと) (ep1)
Nonaka Takamitsu (ep1)
Hara Kintaro as a police officer (ep1)
Gozu Takeo (五頭岳夫) as Gen-san (ep1,4,8,10)
Omura Miki (ep1-2)
Miyasaka Ayumi (宮坂あゆみ) (ep1-2)
Morisato Ichidai (森里一大) as an inmate (ep1)
Kikuchi Toshihiro (菊地敏弘) (ep1)
Kubozono Junichi (窪園純一) (ep1)
Okazaki Hiroshi (岡崎宏) (ep1)
Onami Makoto (大波誠) (ep1)
Matsuda Saki (松田沙紀) as Miracle Mahobin employee (ep1)
Aoi as Miracle Mahobin employee (ep1)
Kato Yutaka (加藤裕) (ep1)
Suda Kunihiro (須田邦裕) (ep1)
Sakamoto Atsuhiro (坂本充広) (ep1)
Adachi Gaku (ep1)
Ishikawa Kenji (石川賢二) (ep1)
Takeo Kazuma (竹尾一真) (ep1)
Miura Mayu as Miracle Mahobin receptionist (ep1,4,6,9-10)
Natsuki (夏月) as Miracle Mahobin receptionist (ep1,4,6,9-10)
Sakai Toshiya as Goda Takeo (ep2,5,7,10)
Shibukawa Kiyohiko (渋川清彦) as Oshima Haruki (ep2,5,7,9-10)
Satoi Kenta as Kurauchi Tsutomu (ep2,10)
Masana Bokuzo as a convenience store manager (ep2)
Kimura Yuichi as Sakura Tatsuhiko/Nobu (ep2-4)
Konno Soryu (紺野相龍) (ep2)
Shinohe Keiko (しのへ けい子) as a surveyor (ep2)
Tanaka Mamoru (田中護) (ep2)
Kojima Haruna as Tomizawa Moe (ep3-5,7-10)
Miyaji Masako as Moai's wife (ep3-4)
Matsuzawa Kazuyuki as Hayashibe (ep3)
Kubo Akira (ep3)
Morishita Ryo as a ramen customer (ep3)
Ikura Manami (伊倉愛美) as Moai's daughter (ep3-4)
Nakamura Mitsuhiro (中村光宏) as a supermarket staff (ep3)
Ishii Masanori as Sagamigawa (ep4,10)
Tokui Yuu as Tokuichi (ep4)
Kusakari Masao as Hirose Ryoichi (ep4-10)
Yamazaki Gakudai (ep4)
Matsui Daigo (松居大悟) (ep4)
Kojima Yasushi (小島康志) (ep4)
Nishida Satoshi (西田聡) (ep4)
Nishiumi Kenjiro (西海健二郎) (ep4,10)
Kyutaro (九太朗) (ep4)
Yahata Tomoaki (ep4)
Shiga Kotaro as Tsuji Yoshito (ep5-10)
Miura Tsuyoshi (三浦剛) (ep5)
Minami Yoshihiro (ep5-6,9)
Kato Tadayoshi (加藤忠可) (ep5)
Kagawa Teruyuki as Noumi Minoru (ep6-7,10)
Tagami Hiroshi (ep6,10)
Aoki Hajime (ep6)
Tanaka Mitsutaka (田中允貴) (ep6)
Amada Reki (ep6,10)
Machimiya Ako (町宮亜子) (ep6)
Hinode Kiyoshi (ep6)
Kitagawa Shougo (北川昇吾) (ep6-7)
Sakaki Hidenori (榊英訓) (ep6)
Nagashima Kazuaki (永島和 明) (ep6)
Enomoto Yasutaka (榎本泰貴) (ep6)
Numata Baku as a company president (ep7,9-10)
Muramatsu Toshifumi as a company president (ep7,9-10)
Hiraizumi Sei as Soma (ep7)
Iwata Gan (岩田丸) (ep7,9)
Takahashi Osamu (高橋修) (ep7)
Yakushiji Jun (薬師寺順) (ep7)
Kodama Norikatsu (兒玉宣勝) (ep7)
Kabira Jay as Nguyen An Sinh (ep8)
Sakata Teppei (坂田鉄平) (ep8)
Omiya Taro as Tsukuda Motoo (ep9)
Yamamoto Keisuke (山本圭祐) (ep9)
Takigawa Eri (滝川恵理) (ep9)
Harada Bunmei (原田文明) (ep10)
Asari Shogo (浅里昌吾) as a news reporter (ep10)
Tajitsu Yoko as a news reporter (ep10)
Umishima Yuki as a news reporter (ep10)
Yuzawa Ben (ep10)
Furukawa Shinji (古川真司) (ep10)
Production Credits
Screenwriter: Furuya Kazunao (古家和尚)
Producers: Makino Tadashi, Murase Ken
Directors: Suzuki Masayuki, Hirano Shin
Music: Sato Naoki
Download links:249mb Multilink[FreakShare,DepositFiles,RapidShare,UploadedTo,HotF ile,QueenShare,FileD efend]
Episode 01 -
E01[450p]+ Sub
Episode 02 -
E02[450p]+ Sub
Episode 03 -
E03[450p]+ Sub
Episode 04 -
E04[450p]+ Sub
Episode 05 -
E05[450p]+ Sub
Episode 06 -
E06[450p]+ Sub
Episode 07 -
E07[450p]+ Sub
Episode 08 -
E08[450p]+ Sub
Episode 09 –
E09[450p]+ Sub
Episode 10 END -
E10[450p]+ Sub
OST Album:
Tracklist:
01. Priceless
02. Cheerful Rainbow
03. 7th Heaven
04. Cook Up
05. Annihilation
06. That's Not A Case
07. Misery
08. Gentleness
09. No Light
10. Gooseberry
11. Never Say Never
12. Serendipity
13. Be Cornered
14. Ready Off Now
15. Lament Luck
16. Wonder Stricken
17. Way Up There
18. Make My Day
File size: 48.75 MB:
Mf
l
DF
فيلم - اجنبي -
تحميل
,روابط ,مباشرة,جودة عالية,الفيلم الاجنبي,dvd,2011,
لتحميل الفيلم مترجم عربي اضغط هنا




---
jpldg hglsgsg FMULTID Priceless F2012D FJ-DramaD Sub FKimura TakuyaD Complete+ Ost ]vhlh